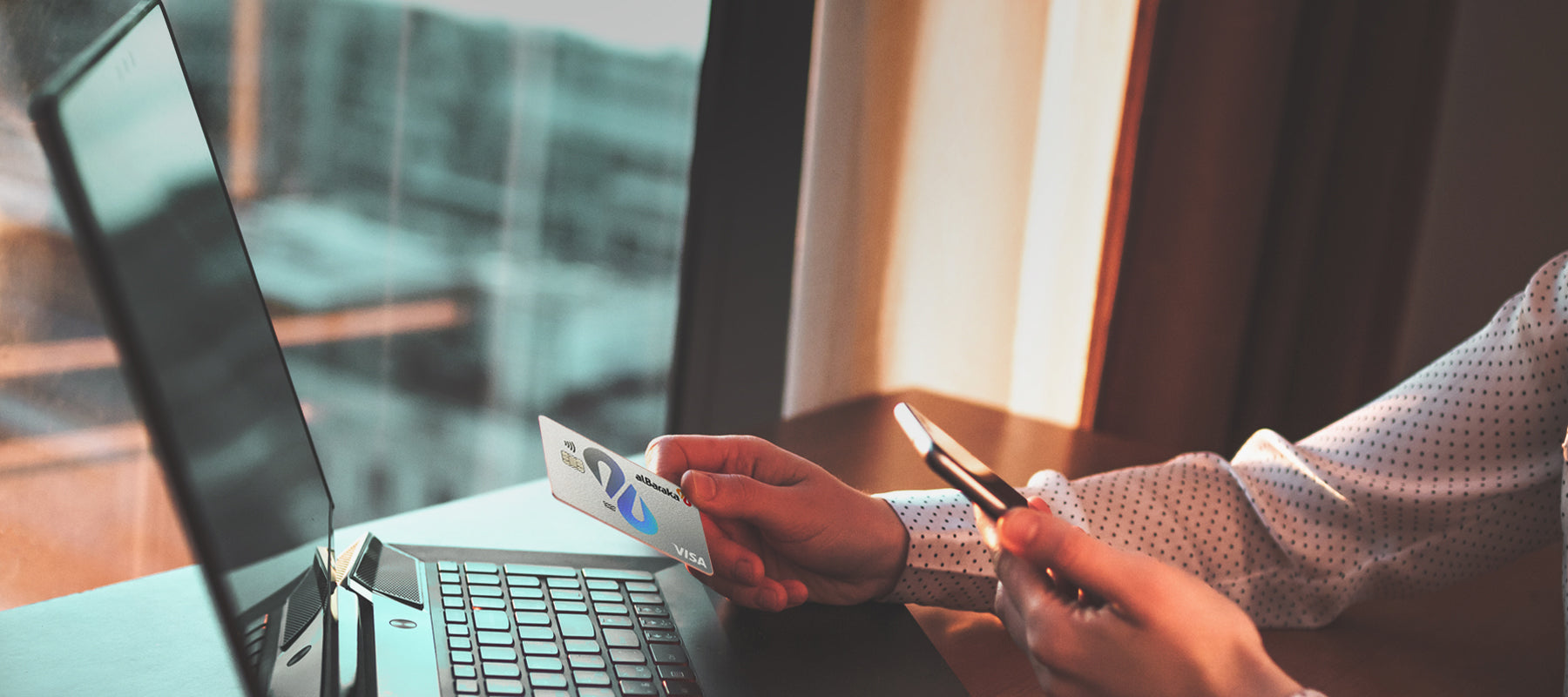 Garmin Pay
What is Garmin Pay?
Garmin Pay is a contactless payment solution that enables customers to make in-store purchases with their compatible Garmin smartwatches. You can use Garmin Pay everywhere contactless payments are accepted.
How secure is Garmin Pay?
Using Al Baraka Debit card with Garmin Pay is secure. There are number of security features Garmin Pay transactions have. Some of them:
Garmin Pay is as safe as using your usual Physical card. Garmin Pay requires the PIN to be entered 1 time in a 24-hour period if the watch is still on your wrist. A PIN will be required each time the watch has been taken off your wrist.
Your card number and identity aren't shared with the merchant, and your actual card numbers aren't stored on your device - instead a unique Token number is used.
All transactions are monitored by Al Baraka Bank .
Do I need to visit the Branch to activate Garmin Pay Service?
No, you are not required to visit the branch. All you need to do is to download the App and follow the steps. Should you require any assistance, please contact Customer Services on 0860 225 786.
Can you use Garmin Pay without your phone?
Yes, you don't need to have your phone nearby to use Garmin Pay. Once the smart watch is setup, payments can be made directly from the smart watch, provided you have entered your Garmin 4-digit PIN code every 24 hours, or when you put the smart watch on.
Does Garmin Pay work without Internet?
Yes, an internet connection is not required for Garmin Pay payments. The Garmin smart watch uses Near Field Communications (NFC) to communicate with the contactless terminal.
How do I set up Garmin Pay?
How to Setup your device
Open the Garmin Connect Mobile app on your device, tap 'Garmin Devices', and select your Garmin watch
Select Garmin Pay and tap 'Create Your Wallet'
Create a four-digit passcode to keep the wallet on your watch secure
Enter your card details
Read and accept the Terms and Conditions
Enter the Authentication Code sent by SMS to your registered mobile number on our system
Once you are done, the card will be added to your wallet and you're ready to go
What are the limitations on Garmin Pay?
There is no purchase limit with Garmin Pay. Transactions over the contactless payment threshold will require your card PIN at the merchant terminal. Other standard card limits apply the same as with your physical card.
Can you have multiple cards on Garmin Pay?
You can add up to 10 credit or debit cards to your Garmin Pay™ wallet.
Can Garmin Pay be used to make online purchases?
No. Garmin Pay is focused on enabling simple and secure in-store payments.
Can I use Garmin Pay if my physical card is lost or stolen?
If your card is lost or stolen, please contact Customer Services on 0860 225 786 so we can block the card and replace it.
In the case you have blocked your card without replacing it, you will not be able to use your card on Garmin Pay. Since the payment cards on Garmin Pay are digital versions of your physical payment cards, you need to remove the original payment card from Garmin Pay. Please remember that you will remain liable for all transactions on your card until the time of reporting the loss to the bank.
In the case you have replaced your lost / stolen / damaged card and activated the new card, no need to add the card again on your device, as it will be automatically updated.
What should I do if my watch is lost or stolen?
If your watch is lost or stolen you can still suspend or delete your wallet from Garmin Connect Mobile on your phone. These options are available on the Garmin Pay main menu.
Download the Garmin Pay App
Tap menu and then Cards
Tap Add card
Register your Al Baraka Debit Card
Once your card is added you can start using it to make in-store purchases with your device
Get in touch
Please complete the form below and a member of our team will contact you as soon as possible: